Van Dhan Clusters from Wokha, Nagaland are driving tribal entrepreneurship

9 Van DhanVikas Kendra clusters have been made operational in Nagaland covering Zunheboto, Wokha, Tuensang, Phek and Mokokchung districts

By PIB Delhi
Nagaland has emerged as another example of tribal entrepreneurship that has showcased to the entire country how cluster development and value addition can help members earn significantly higher income.These clusters are one of the many developed under Van DhanYojana(PMVDY) introduced by TRIFED, Ministry of Tribal Affairs, in association with State departments. The scheme aims at empowering tribals by providing them support in terms of financial capital, training, mentoring, etc. in order to expand their business and enhance earnings.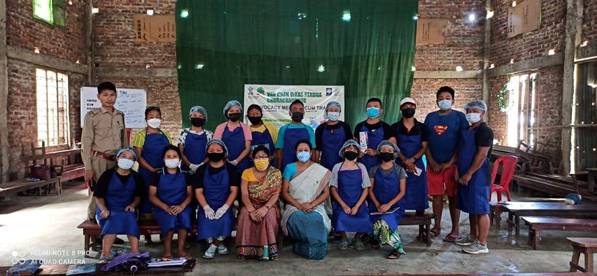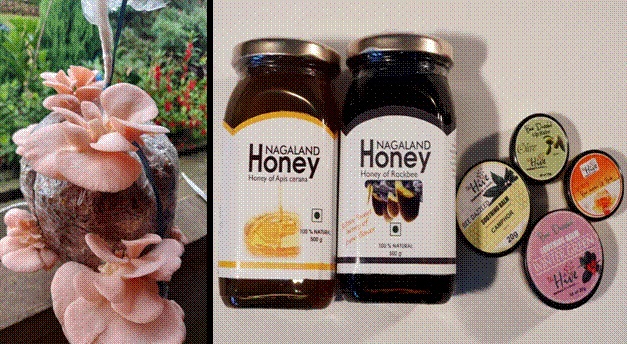 Nagaland Beekeeping and Honey Mission (NBHM), the nodal Agency for honey production in the State, has been the implementing agency for the said set of clusters. It has implemented the Van DhanYojanprogramme solely for beekeeping activity as the only MFP in the first phase, which was initially implemented with five Van DhanVikas Kendra Clusters in four districts. Since Honey production is a seasonal activity and during offseason or dearth period the Van Dhan SHG members remained idle. Therefore in order to operationalize the Van DhanVikas Kendra Cluster activity throughout the year the State Implementing agency (NBHM) envisaged to venture for other minor forest produces such as Hill broom, oyster mushroom, ginger and nut gall.
The genesis of oyster mushroom cultivation begun with a trail on few selected SHGs during the pandemic which eventually prompted the State implementing agency to embark on a larger scale after witnessing the numerous production, scope for marketing opportunities and its consumption benefits for health aspects. VDVKCs are now engaged in the oyster mushroom cultivation on a
larger scale, targeting approximate production of five (5) metric tonnes in raw in the coming months with two variety "pink and white".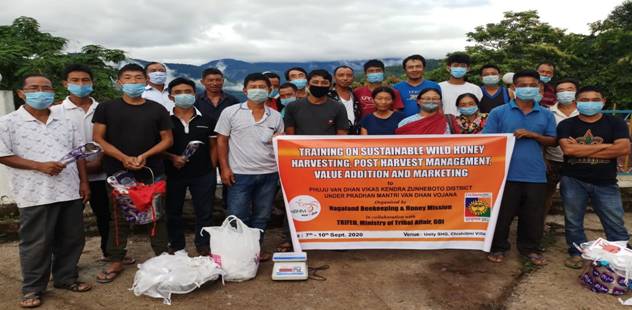 Through the efforts of TRIFED, the 'Mechanism for Marketing of Minor Forest Produce (MFP) through Minimum Support Price (MSP) and Development of Value Chain for MFP' has impacted the tribal ecosystem in a major way. Procurement has gone up from Rs 30 crores to Rs 1843 crores using GoI and State Government Funds across the country. The Van Dhan tribal start-ups, a component of the same scheme, has emerged as a source of employment generation for tribal gatherers and forest dwellers and the home-bound tribal artisans.
For the state of Nagaland alone, 285 VDSHGs have been sanctioned subsumed into 19 VDVK Clusters out of which 9 VDVKCs (135 VDSHGs) have been made operational covering Zunheboto, Wokha, Tuensang, Phek and Mokokchung districts. The VDVKC is currently producing Wild honey, Amla, Nutgall, Zanthoxylum, Roselle, Ginger, Turmeric, Hill Broom, Oyster Mushroom through value addition of MFPs, which has benefitted the lives of almost 5700 members attached to it. Till date sales of 35.32 lakhs has been achieved by the VDVKCs helping in the economic upliftment as well as empowerment of tribal communities in Nagaland.
The Van Dhan tribal start-ups, a component of the same scheme, has emerged as a source of employment generation for tribal gatherers and forest dwellers and the home-bound tribal artisans. Sh. Narendra Modi Hon'ble Prime Minister inaugurated the first Van Dhan Kendra on 14th April 2018 at Bijapur, Chhattisgarh as value addition centre for tribal produce and in less than two years, 37,362 Van Dhan Self Help Groups (VDSHGs), subsumed into 2240 Van DhanVikas Kendra Clusters (VDVKCs) of 300 forest dwellers each, was sanctioned by TRIFED. Since the inception of the Van DhanYojana, TRIFED was tasked to establish 50,000 Van Dhan Self Help groups and after launching the program in mission mode this year, TRIFED achieved the milestone of sanctioning 50,000 VDSHGs on 15thOctober 2021, and now stands at the count of 52,976 VDSHGs which are subsumed into 3110 VDVK Clusters.
The scheme has already proved to be a beacon of change which has positively impacted the tribal ecosystem by being a source of employment generation for tribes and the beauty of the programme lies in the fact that it ensures that the proceeds from the sales of these value-added products goes to the tribals directly.
Advertisements
Listen to IBG NEWS Radio Service today.